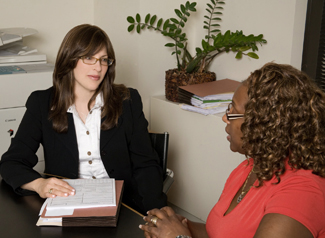 In today's economy, record job losses, plummeting home values and business failures have caused financial problems for millions of people, creating stress and anxiety.
If you are burdened with debt, dealing with creditor harassment, have mortgage lenders threatening to foreclose on your property or are plagued with endless calls from debt collectors, it may be time to consider filing for bankruptcy.
Declaring bankruptcy can help you to get a fresh start. After filing you can begin re-building your credit immediately and start to get back on your feet again.
Brooklyn bankruptcy attorney Rachel Blumenfeld can help. A compassionate client advocate, Ms. Blumenfeld understands that this is a difficult and emotionally turbulent time. She provides effective legal counsel and handles each case with care, skill and empathy.
NY bankruptcy lawyer Rachel Blumenfeld provides the following bankruptcy services:
Debtor Representation:
If you are a debtor faced with pressing financial problems, Rachel Blumenfeld can help you determine if filing is right for you. If appropriate, she will provide you with expert representation and help make the process as simple and stress-free as possible. Learn more about her chapter 7, chapter 11 and chapter 13 services.

Bankruptcy Litigation:
Brooklyn bankruptcy attorney Rachel Blumenfeld also represents parties who have been pulled into a legal action, whose interests must be defended in bankruptcy court. Learn more about bankruptcy litigation defense.
If you are struggling with debt, are being harassed by creditors or have to defend yourself in a bankruptcy action, Brooklyn bankruptcy attorney Rachel Blumenfeld will ensure that your interests are properly protected. Click here to schedule a free 30 minute, initial bankruptcy consultation today.
Debt Settlement:
In some instances bankruptcy may not be the best option. Ms. Blumenfeld can also help advise you on alternative strategies. Read more about Rachel Blumenfeld's debt settlement and credit card debt relief services.
Contact Ms. Blumenfeld today to setup your no obligation, free 30 minute, initial bankruptcy consultation.
NY bankruptcy lawyer providing bankruptcy services in: New York City • Brooklyn

We are a debt relief agency. We help people obtain relief under the Bankruptcy Code.